Education has become a lucrative and highly competitive market. The number of students in post-secondary education, in particular, has more than doubled since 1998. This increased demand for enrollment places additional requirements on educational institutions. One important criterion is the professionalism and attractiveness of an institution's website, as this is often the first contact between prospective students and educational institutions. It is vital that this experience does not alienate visitors or leave a bad first impression. This article will discuss the key components of a successful post-secondary education institute's website, including content selection, design choices, and traffic conversion.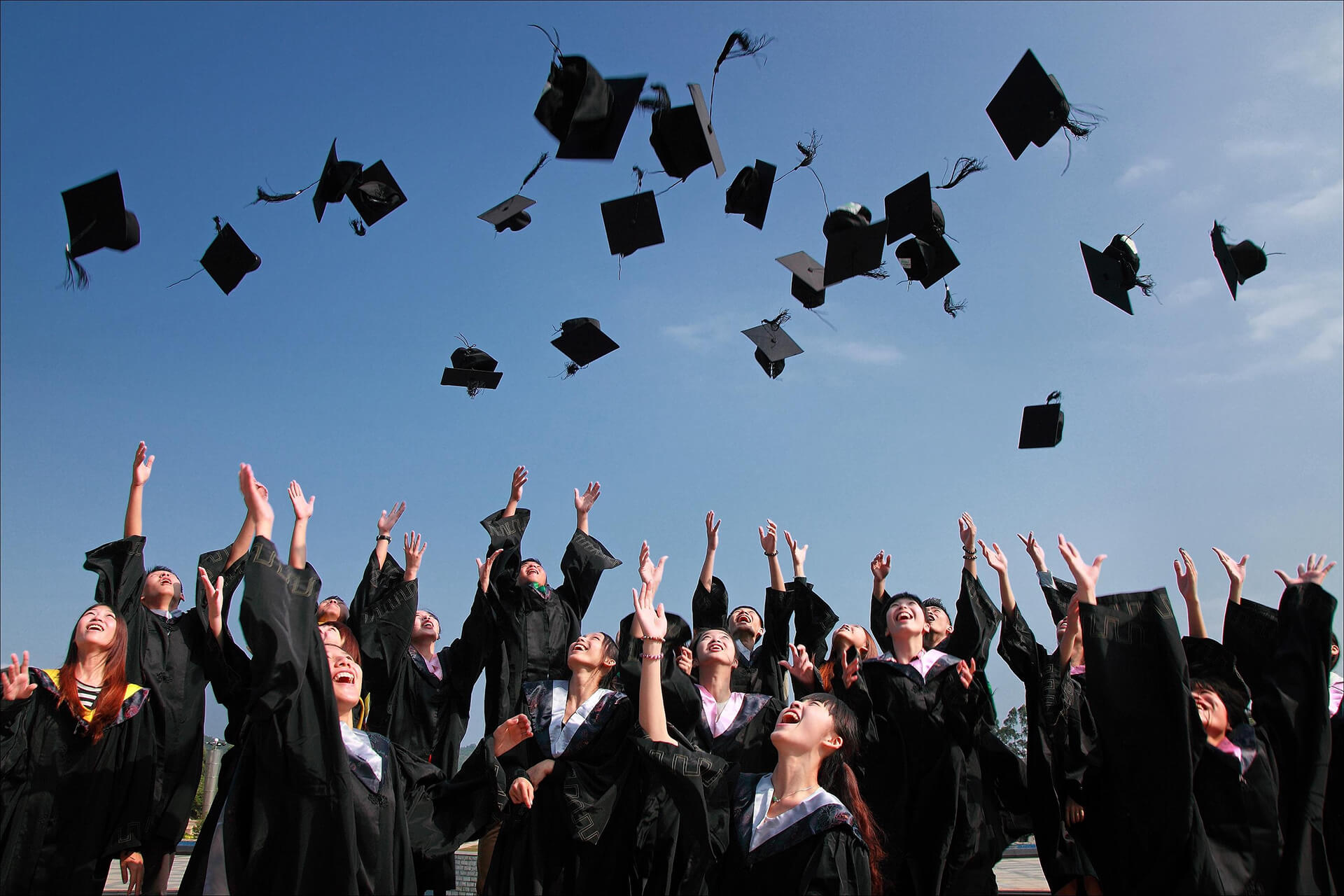 Engaging content
Program details
Fame and prestige are not enough to attract students. Program details will help students effectively evaluate whether a program is aligned with their particular needs and expectations. Additionally, a detailed program outline will show visitors that a program is carefully planned out, increasing trust with prospective students. Program details should include the most relevant details such as tuition costs, courses, class size, and faculty member profiles. Including video interviews or reviews with graduates or current students adds additional authenticity to the program.
Application Instructions
Once a student is interested, the student will naturally want to follow up with clear application instructions. Detailed instructions should include enrollment requirements, necessary supporting materials, step-by-step guidance, and timelines. This information should leave the student with no further questions and lead the student into preparing the necessary application materials.
UBC's website showcases a well-thought-out user interface for attracting students. The website includes easy to navigate links to program details, course lists, tuition fees, and future prospects.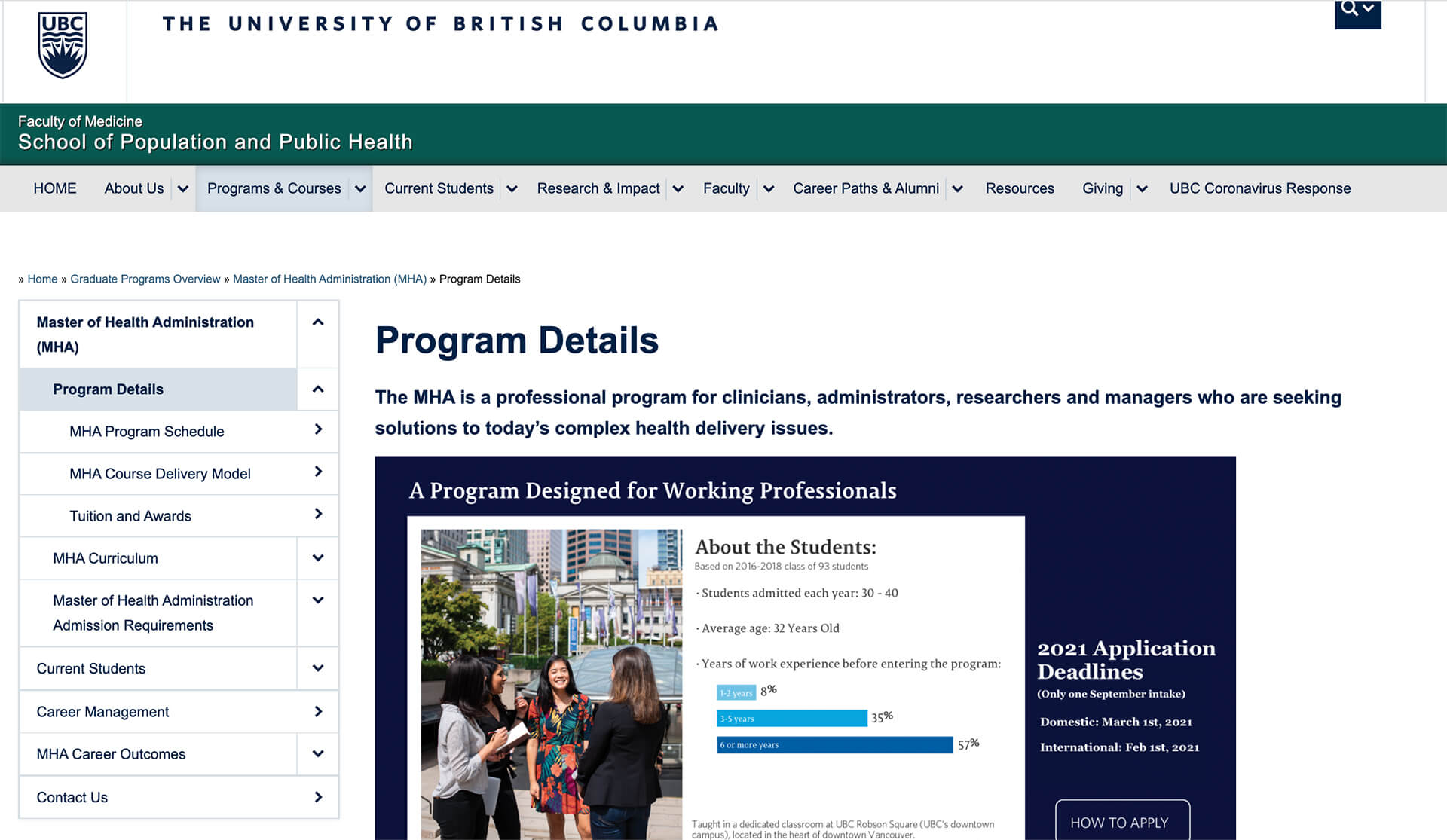 Information about the institution
In addition to program details, information regarding the academic institution itself will factor into a student's considerations, for example:
Facilities. Research reveals that the quality and availability of facilities such as libraries, quiet zones, and group work areas greatly impact whether a student chooses a university.
Surroundings. Student life is not restricted only to the campus. A student will also take into account the surrounding area, such as public transportation, recreational facilities, and student accommodations.
Ranking. University ranking undeniably plays a role in shaping the opinions of future students, parents, and prospective employers on the quality of an educational institution. This can be a valuable proxy for making comparison between schools.
Life after Graduation. Students' concerns are not limited to academic success. Career development, which requires long-term planning, can also influence students' choices. If institutions can highlight the career services provided such as interview practice, career planning, and skill workshops, they are more likely to attract the students' attention.
Student Life. Showcasing the daily life of current students can provide future students with a more vivid vision of being a member of the institution. Media depicting recent university activities, lecture halls, or student projects reinforces the community aspect of the university.
The student life page of University of Toronto showcases services offered as well as activities in which students can participate. Visitors can view more details on the services and activities by clicking the links under each category.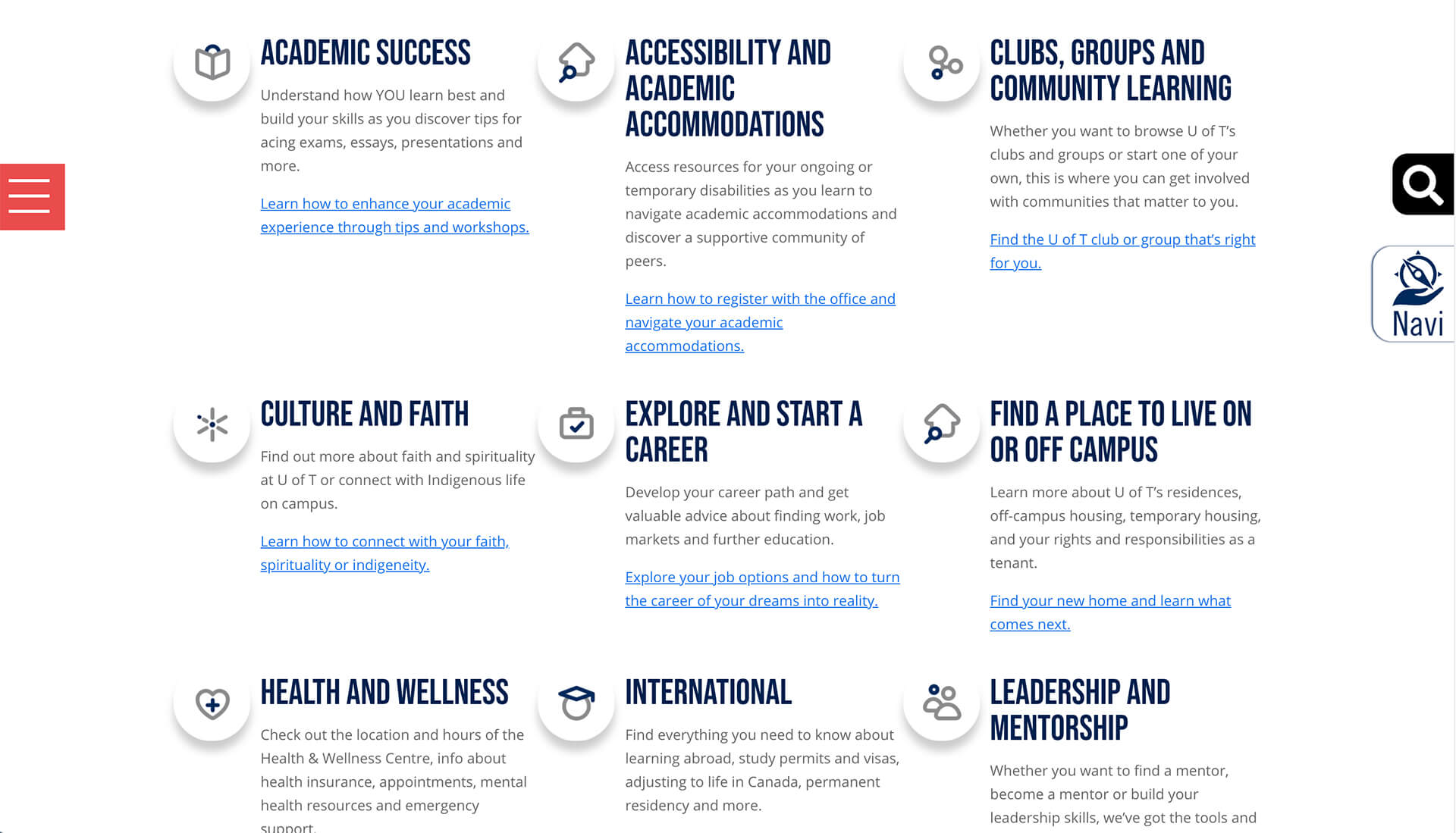 Web Design
Navigation system and user experience
A well-designed navigational system is crucial for any website. Firstly, search engines prioritize websites with clear navigational systems in search results. Secondly, an easy-to-browse website offers a better user experience, increasing website traffic. Educational institution websites have a large amount of information they need to showcase. Simple menus are critical for students to effectively browse the website to find what they are looking for.
Search Ranking
Search rankings determine where a website is returned in the search results. A higher search ranking is returned more often and will increase web traffic. Two major factors that influence ranking are content relevance and search engine optimization (SEO) score. SEO scores can be improved in a variety of ways, including implementing SSL security, improving load times, customizing 404 error pages, etc. Check out how to improve your SEO score in our article here.
Visual Appeal
Visual aesthetics are crucial for attracting attention, creating first impressions, and building relationships. A positive first impression can make it easier for websites to establish strong long-term relationships with users. Websites for educational institutions should reflect the school's theme and motto visually. For example, the website's color scheme should reflect school colors; scenery photos should be from the campus; people should be faculty staff, students, or alumni; fonts should reflect the professionalism of the institution.
Western University uses a consistent white and purple color scheme throughout the entire website. The photos are of faculty staff and current and past students, and their navigational system is easy to use and effective.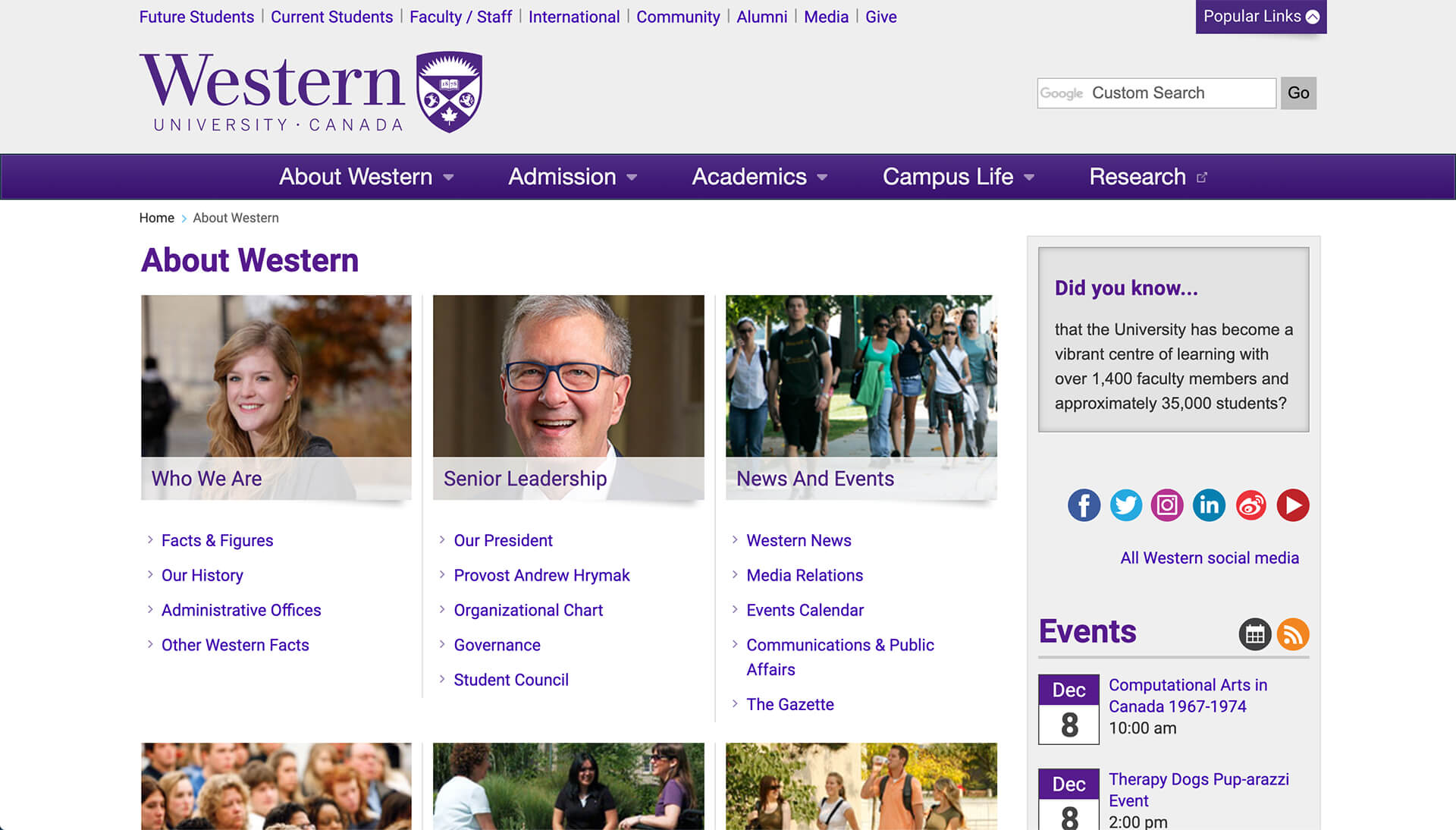 Traffic Conversion
Call-to-action
A call-to-action (CTA) is a key element on a website for conversions of any kind. A CTA invites interested visitors to voluntarily indicate interest. For educational institutions, a CTA will collect contact information from prospective students. This information helps institutions gauge relative interest in different programs and plan the recruiting process accordingly. Additionally, institutions can build mailing lists to send newsletters, links to application guidance webinars, upcoming deadlines, etc.
The following is an excerpt of the application guideline page of an MBA program offered by the Rotman School of Business. Visitors voluntarily submit contact information to receive a full program brochure as next steps for "Your Path to the MBA".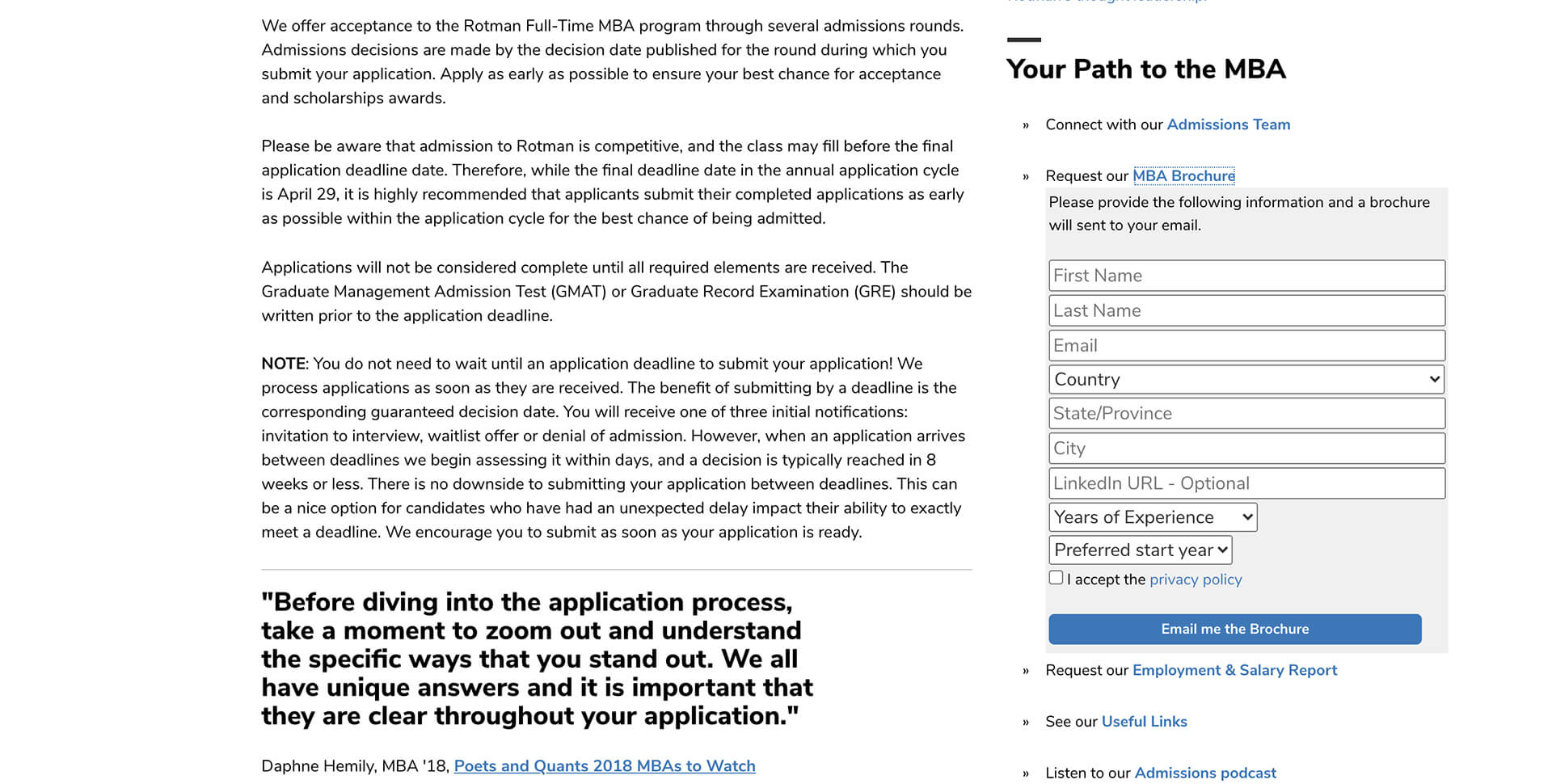 Retargeting
Like other websites, academic institutions can use retargeting to effectively serve advertisements. With browser cookies, educational websites can trace user activity on the internet. When users are served ads when browsing other websites or social media platforms, retargeting providers, such as Google Ads, will serve ads with the context of existing cookies. Retargeting is a powerful marketing tool, because nearly 98% of the users do not convert on the spot. Retargeting is one of many digital marketing tools to boost conversion rates.
University of Waterloo notifies users of cookie collection policies for first-time visitors to collect user behavioral data for website optimization or marketing campaigns.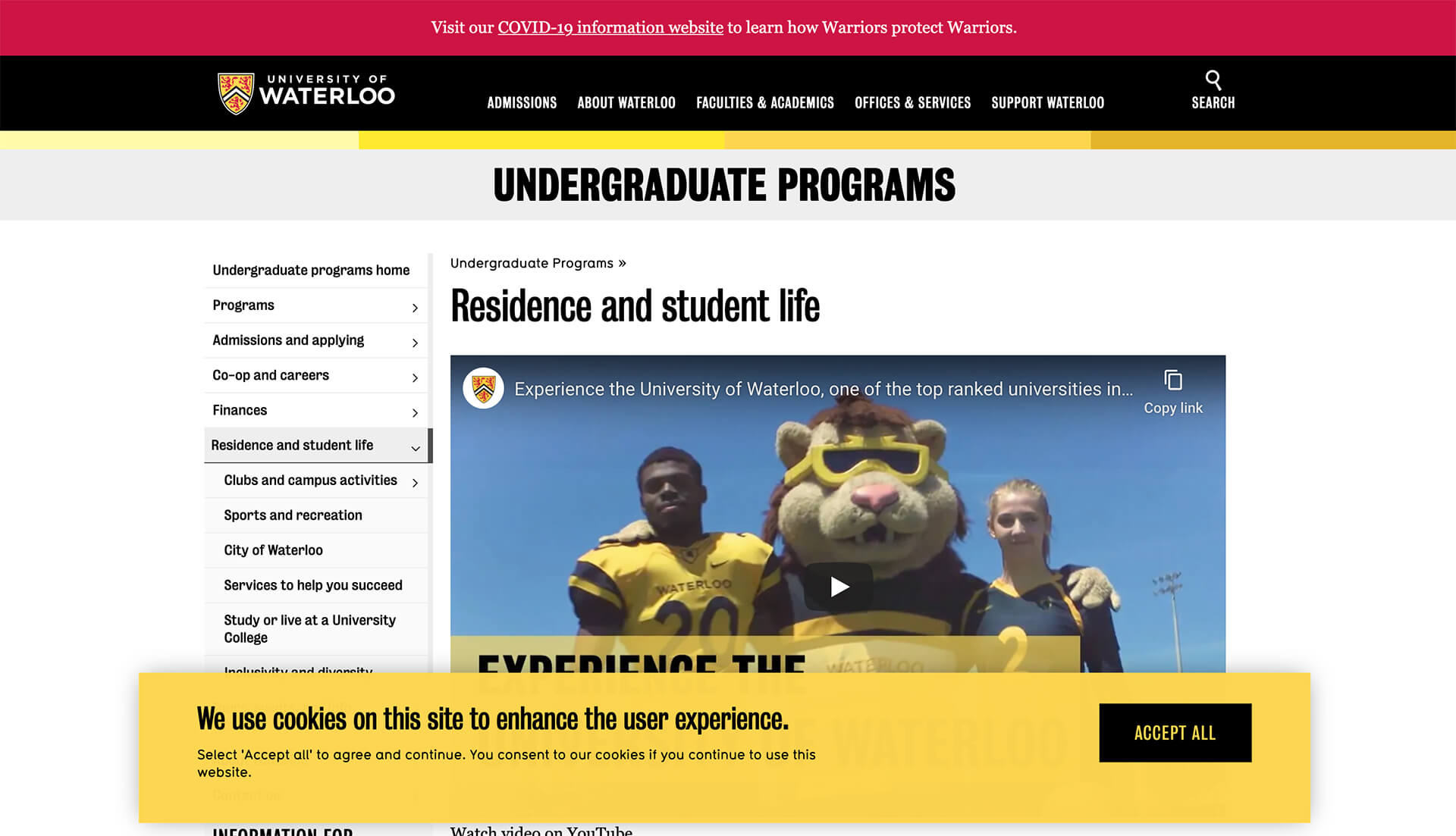 Getting the best students
Post-secondary education has become reliant on digital marketing to attract the best students. To build an attractive website, these academic institutions must pay attention to website design as well as content curation, since both content and presentation are critical in this context. To thrive in this digital economy, institutions need to take note of digital marketing techniques, such as call-to-actions and retargeting, to improve traffic conversion.