As the first point of contact between events and participants, event marketing websites form the initial impression of the event. In addition to providing event details, using engaging photos and compelling reviews can help create a successful event. In this article, we discuss strategies for these websites to increase event ticket sales.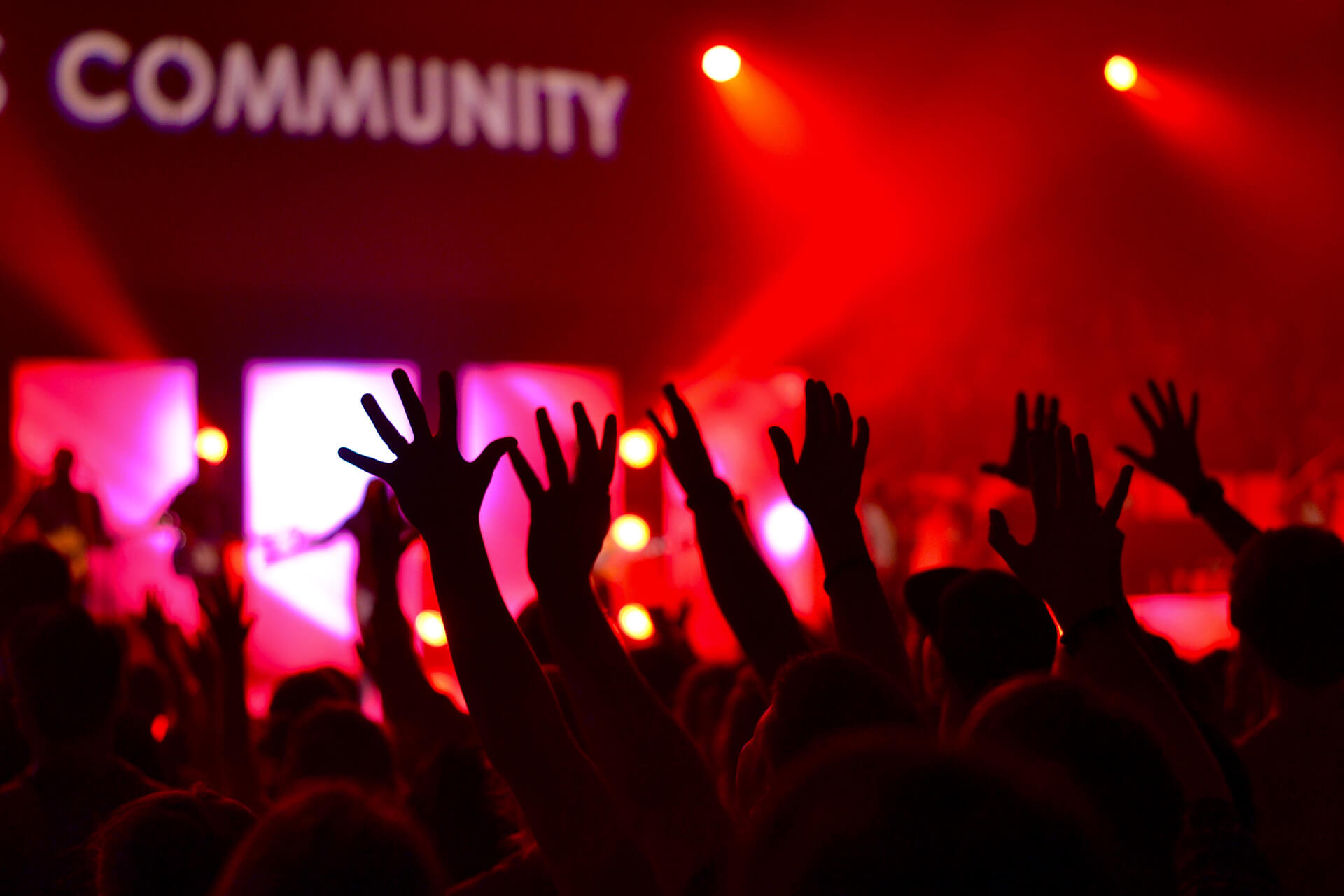 Provide clear, concise event details
When event organizers start designing the layout of an event website landing page, event details must be concise and easy to locate. Besides location and time, organizers should also provide information such as event schedule, key participants, and registration fees. These details benefit both event organizers and potential attendees. For organizers, a website that quickly provides the necessary information for visitors helps the event gain credibility. Details also indicate professionalism, having all relevant details thoroughly planned out. For potential attendees, concise event details allow them to make final decisions without wasting time scrolling through unrelated material. On the contrary, confusing and verbose event details make the decision-making process harder for visitors, losing potential buyers.
The Big Grill Festival landing page clearly displays the event time, location, and ticket price and provides visitors a clear overview of the event's schedule.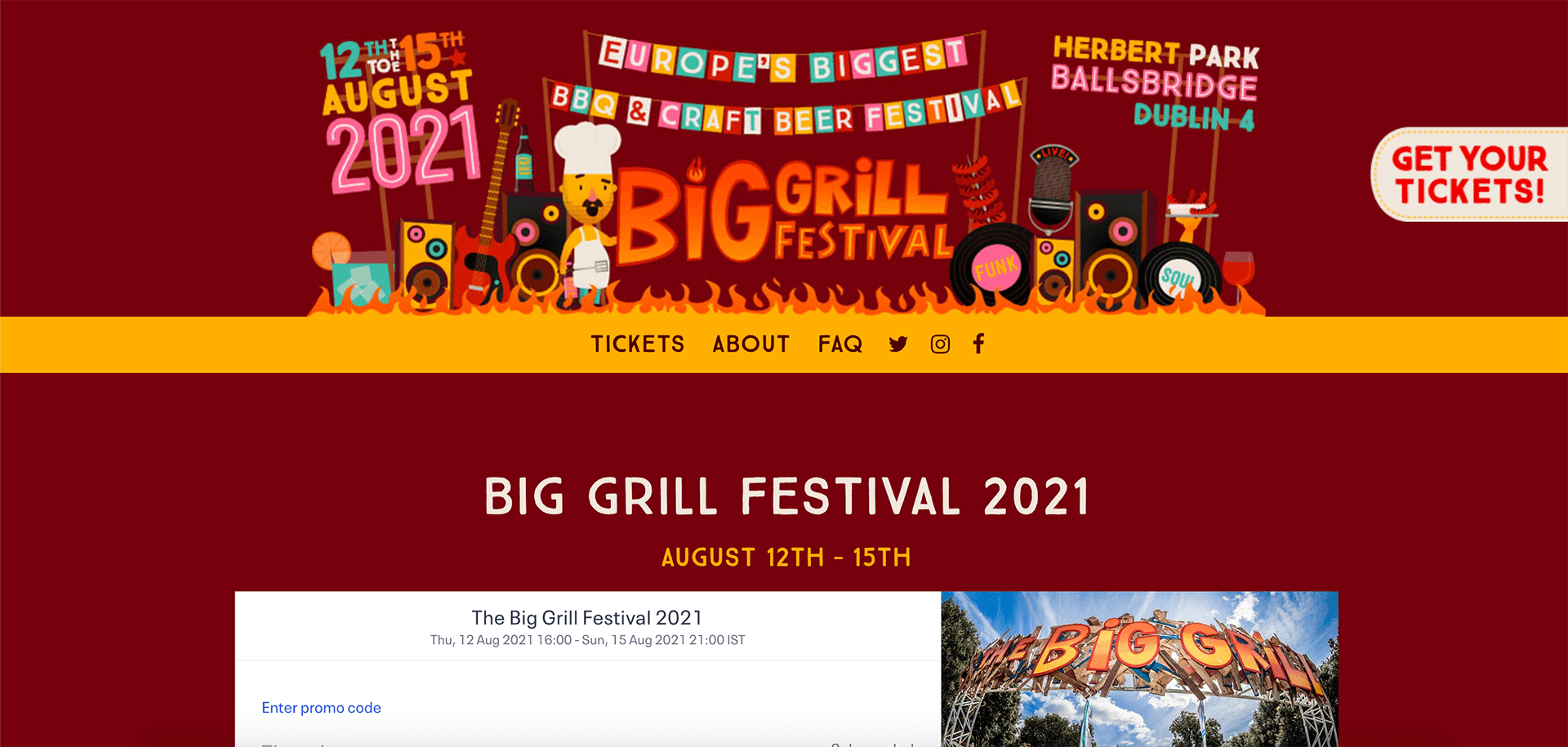 Strategies to attract potential attendees
To gain potential attendees, listing essential event details is only the beginning. Event organizers can take advantage of some simple strategies to make their events more attractive.
Establish an emotional connection
One strategy event marketing platforms can adopt is trying to establish an emotional connection with visitors. Research reveals that consumers tend to rely more on intuition than deliberation when making online purchases. Similar to ecommerce websites, event websites ultimately want to increase conversion rates. When a landing page captures a visitor's interest, visitors spend more time on the website, increasing the likelihood of conversion.
To accomplish this task, websites should include captivating photos or videos to pique visitors' interest. Vivid imagery is more likely to inspire potential buyers compared to text. Choosing the right media to display on the landing page is crucial to determining how long visitors choose stay on the website.
The website of OCR World Championships uses various photos for different sections of the event. Interested visitors will follow the links for more information. This design raises visitors' interests and allows curiosity to take over to direct the visitor's experience.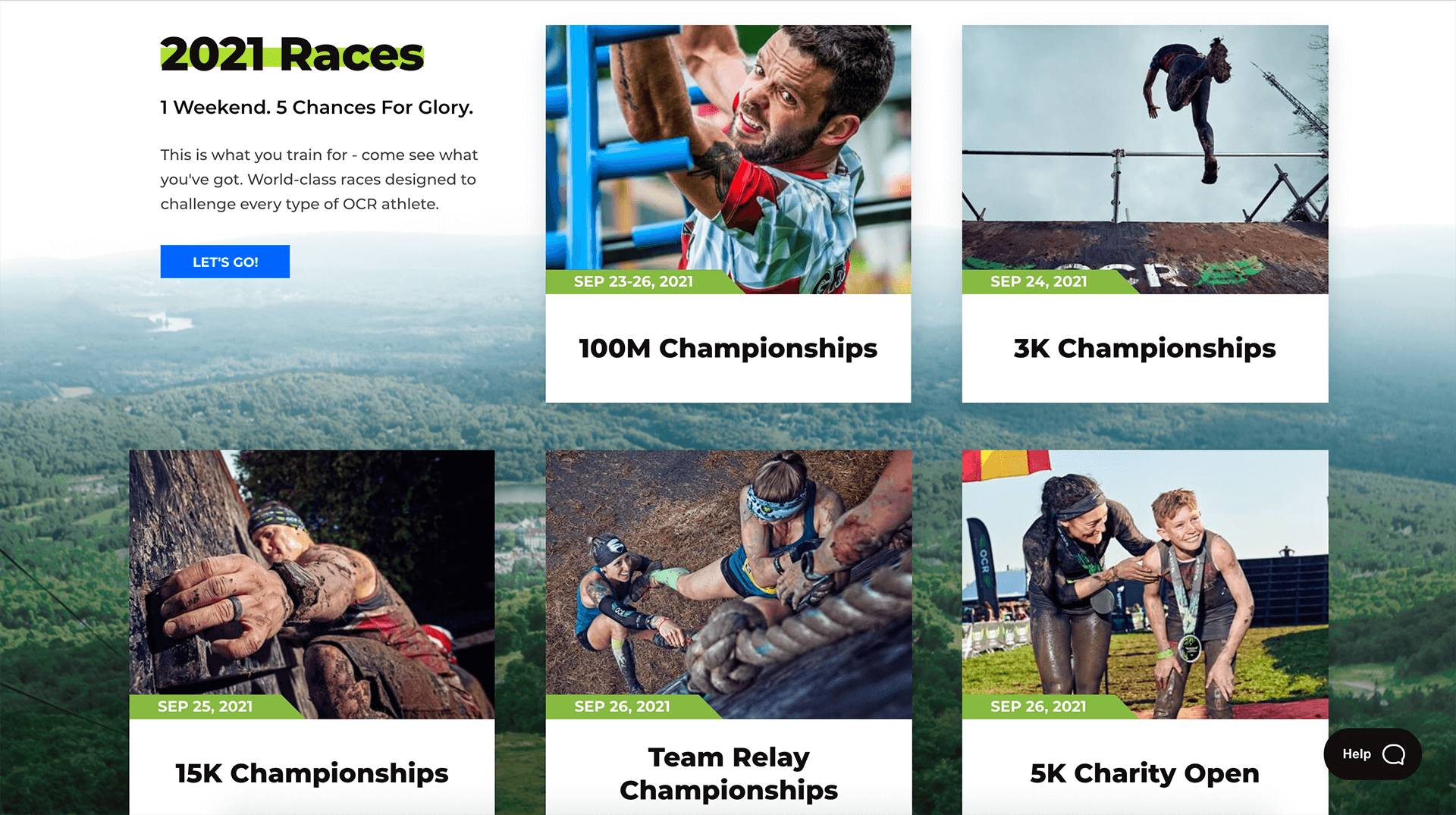 Reviews from past attendees
Social proof is another marketing strategy event websites should consider. Event organizers can take advantage of this phenomenon by adding reviews from past attendees or third-party sponsors to the event websites. These reviews elevate the feeling of trust potential buyers receive and influence their decisions through attendees advocacy.
By adding a section for past attendees to share their personal experience in participating in the event, OCR World Championships leverages social proof to increase the number of potential attendees.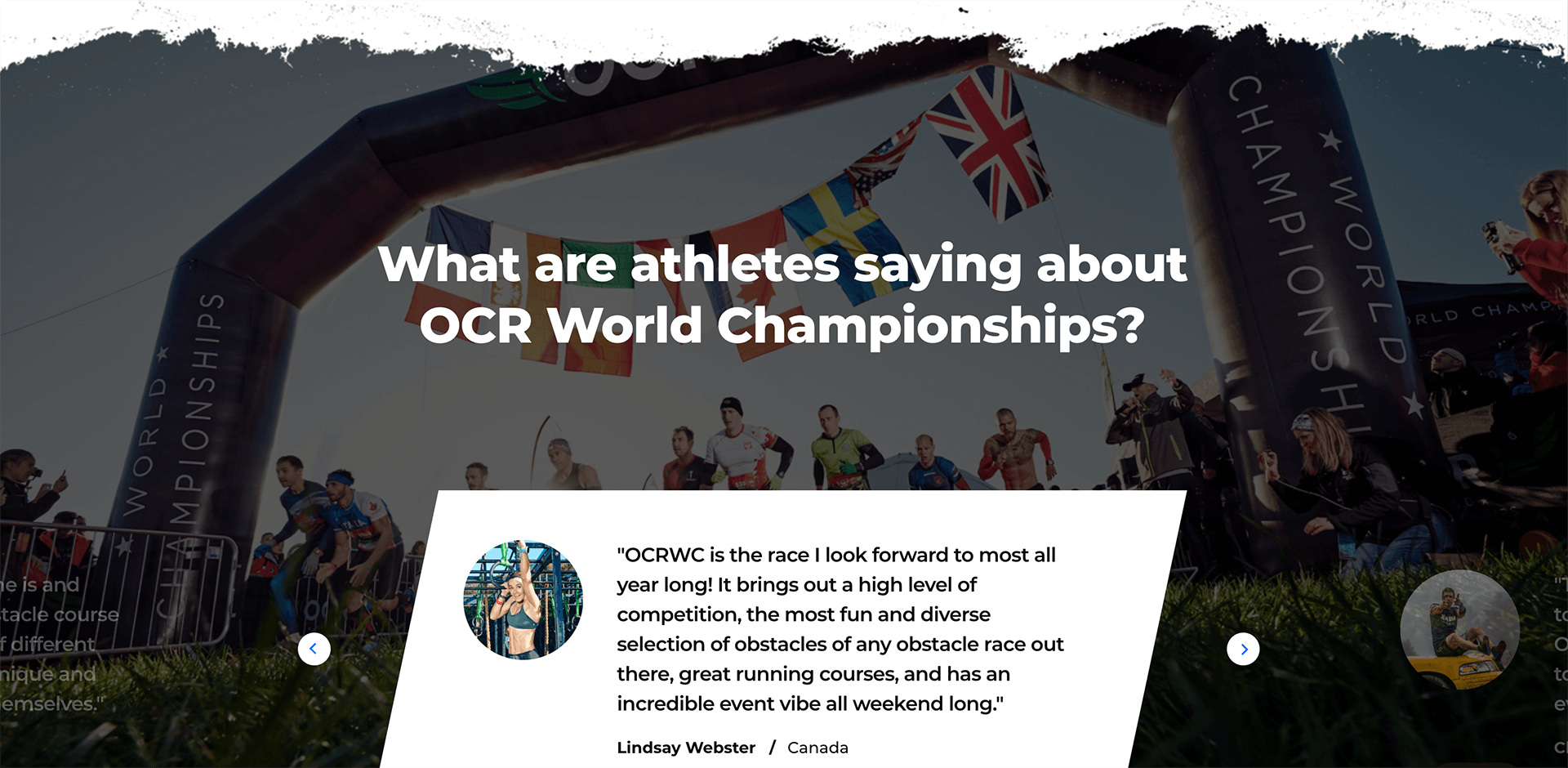 Value propositions
Value propositions further attract potential attendees by stressing how the event will benefit the attendees. For events that aim to attract a specific group of people or community, organizers can highlight the value propositions in the content and design of event websites.
Emmanuel College's anniversary event page highlights the memories and emotional connections between members of the college community. The website designer uses sections such as Your Memories and 100 Facts for 100 Years to spark alumni's longing for the good old days they spent at Emmanuel College. This emotion encourages alumni to value the chance to reminisce with old acquaintances.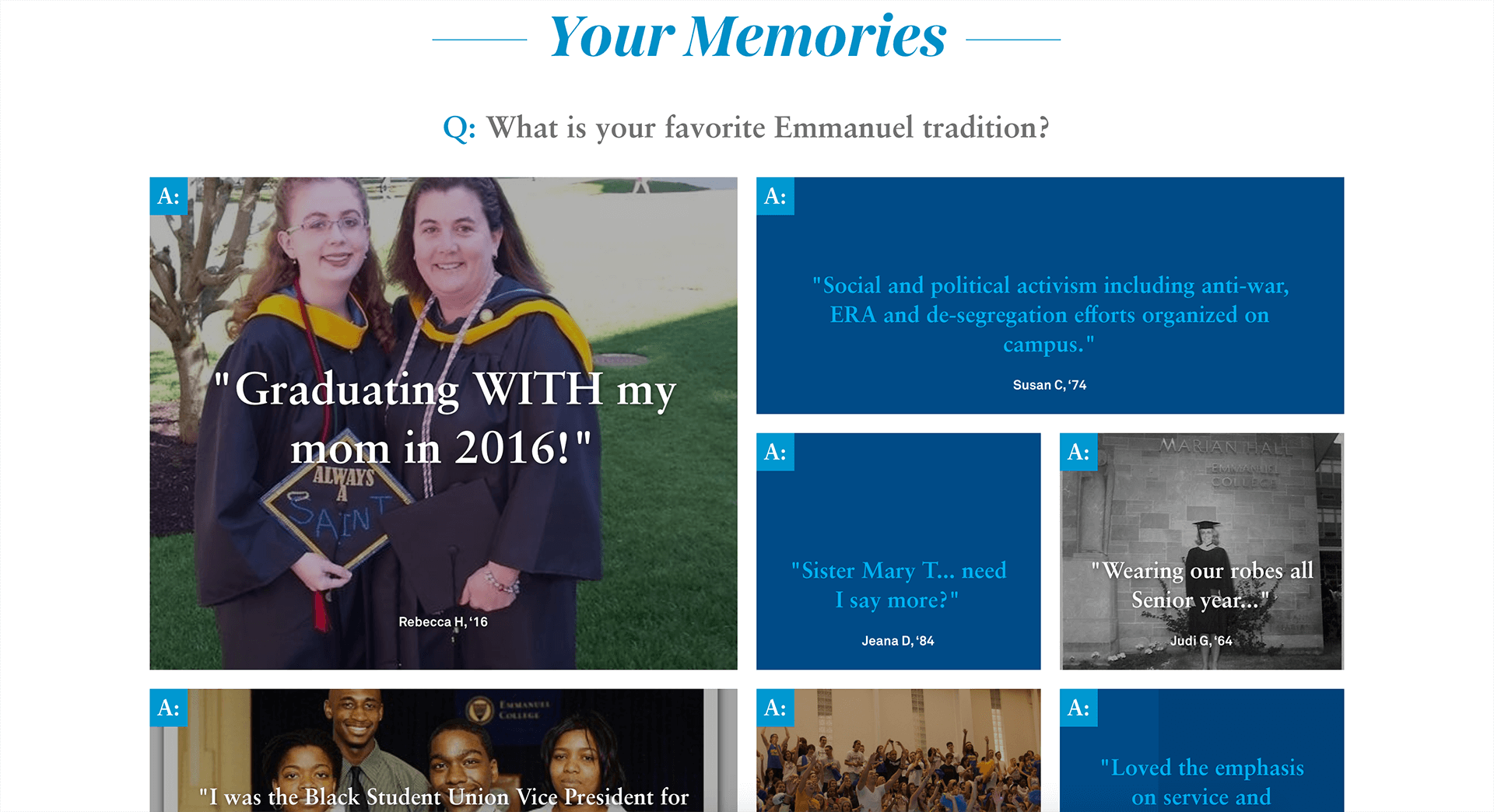 How to convert visitors to attendees
Commanding attention and piquing interest are the first two for event marketing websites. Finally, organizers must also adopt traffic conversion techniques when designing event websites. The following two tips will help designers make this final step more effective.
Website structure
A well thought-out website layout will both increase SEO scores as well as visitors' user experience, with the former increasing website traffic and the latter facilitating conversion. Besides the basics, UX design is also important for event websites, which design guides users to make purchases. A sample website structure that event websites can use is:
A captivating image to engage the user
Provide critical event details such as date, time, location, etc.
Highlight secondary event details, such as various different race types or opening acts
A section for reviews from past attendees
Call-to-action
Call-to-actions (CTAs) are indispensable for increasing conversion rates, as they invite visitors to take action. One ideal place for CTAs is after a captivating experience, such as an event gallery. If the visual experience had any effect, the visitor is more likely to make impulse decisions than when the emotions have cooled. Another ideal location for CTAs is after reviews from past attendees. Once the visitor is furnished with a heightened sense of trust in the event, the CTA can leverage this emotion to convert the potential attendee.
OCR World Championships adds a CTA at the top right corner of its website's landing page. The CTAs on this website are highlighted in blue, a stark contrast to the rest of the website. The countdown timer on the landing page also helps increase conversion by instilling potential attendees with a sense of urgency.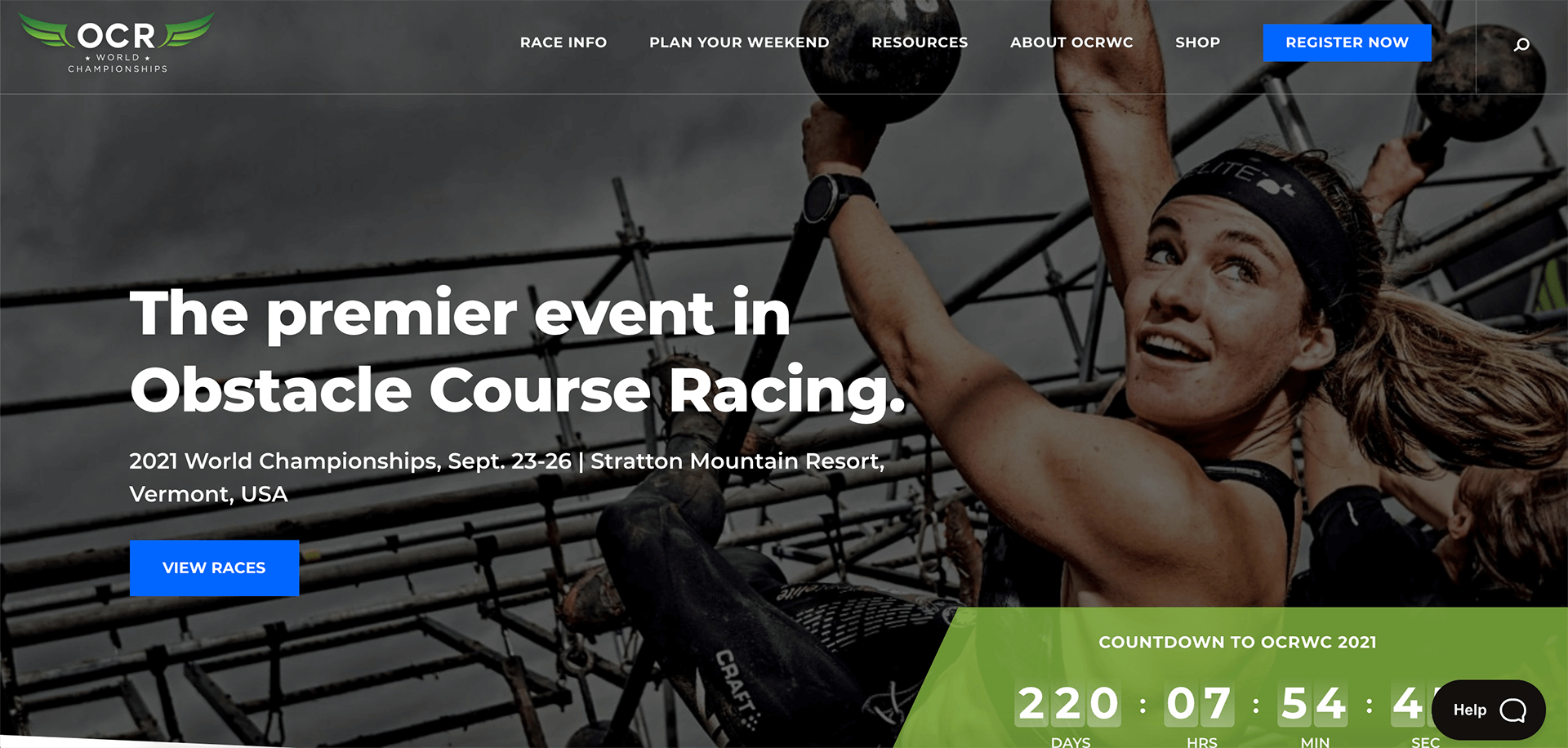 Conclusion
An event marketing website is comprised of many components working in unison. Providing clear and concise event details builds credibility for the event. Captivating visitor interest, using social proof, and quantifying the value proposition will attract users to learn more about advertised events. Last but not least, proper use of CTAs and clear website layouts can help boost conversion rates. Follow these tips to increase attendance for your events.